Finding the right mural artist is important, and a good place to start is by viewing artist portfolios.
Colchester based Studio 10 have been creating incredibly unique and visually impactful mural's for many years. We love nothing more than invigorating areas by breathing fresh life onto a variety of surfaces with a bespoke mural design. Why not take a look at some of our the best murals designed and completed by Studio 10's John Livingstone.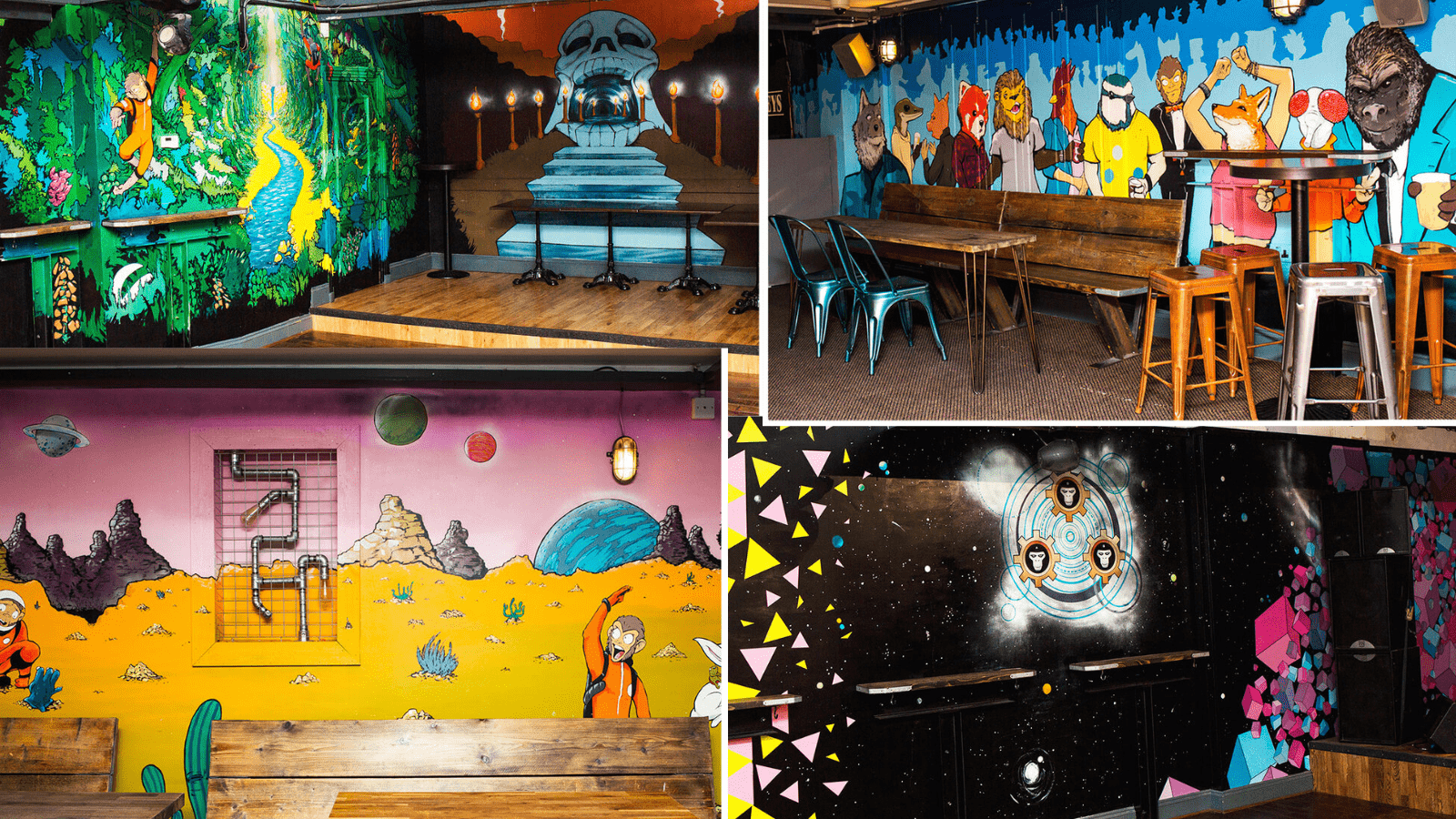 Planet TWM (Three Wise Monkeys)
We were approached by Three Wise Monkeys, a popular local tap house that offers live music and great food, who wanted to create an atmosphere that encapsulated a certain vibe. The initial idea was to create a treehouse design that incorporated skulls and elements similar to BeaverTown's "Gamma-Ray" beer artwork.
We wanted to capture the identity of the business and take it out of this world!
What better way to do that than through old-school space travel?
So after a great deal of brainstorming, we settled on an intergallactic-inspired theme, reminiscent of retro sci-fi films. We thought the best way to execute this brief and incorporate the clients' preferences, was to combine elements of 1970's science fiction with a creative narrative.
The final design concept: 3 monkeys crashland on an unknown planet. As they adventure, they find themselves at a party with extraterrestrial beings, not unlike themselves.
The next time you find yourself enjoying a couple drinks upstairs at the Three Wise Monkeys, have a closer look at the walls and you'll notice everything is divisible by 3. Small unique touches add layers of depth to designs. It's these touches that make bespoke murals truly unique.
If you'd like to commission a unique mural that's out of this world, get in touch with Studio 10's mural artist today.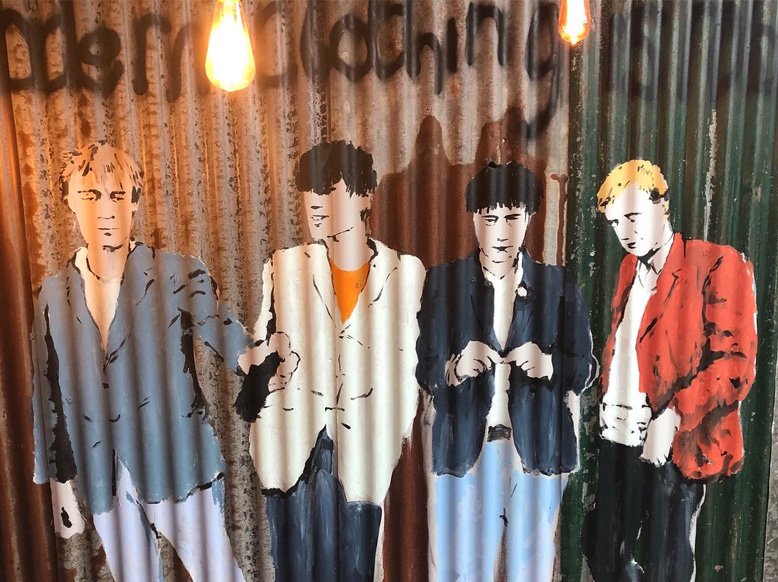 Modern clothes are rubbish! (Best Days Vintage)
Best Days Vintage is an incredible vintage clothes shop run by the dazzling duo Steve and Jes. They're always finding something new and different to remain in touch with younger generations and it's one of the reasons they decided to commission bespoke murals from Studio 10.
As part of this commissioned project, we created the 'modern clothes are rubbish' mural. Blur's lead singer Damon Albarn was a Colchester local and our initial concept was to combine Steve and Jes's love of the band with the cheeky, fun persona of the business. So after some discussion, we decided to pair the iconic imagery of the band lineup with the title of one of their most infamous albums "Modern Life Is Rubbish" (but swap 'life' with 'clothes').
The vintage clothes that line the walls of Best Days Vintage are timeless classics and distinctively 90's clothes wear – so this mural really complements the Britpop-Esque identity of the store. The mural pays homage not only to Blur, but also to the incredible people that keep Best Days one of the best businesses in Colchester town.
If you'd like to see more of the work completed for 'Best Days' head to the Studio 10 mural gallery. And if you'd like to commission a pop-culture-inspired mural from a skilled mural artist, head to our contact page to get in touch.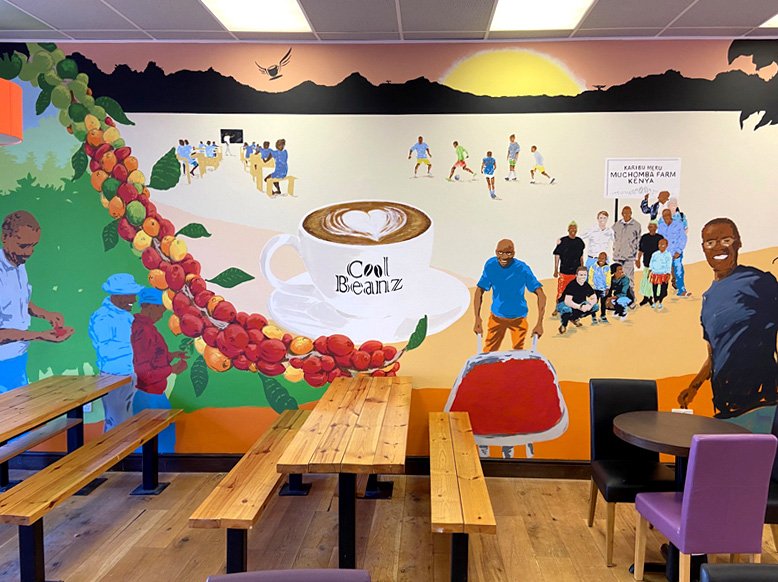 Coffee shop mural (Cool beanz)
This mural project was commissioned by Art Eats (a creative council-funded project) and overseen by the cafe owner Yolanda. The project brief was centered around the Paddy & Scott-owned coffee bean farm in Kenya. The client wanted to show the journey from cultivation to cup and to reflect on the effects the project has had on the local Kenyan community.
The brief centres around people and the real-world impacts of community business, so we chose to emphasise these aspects by looking to existing photography to create a design inspired by realism (in only 20 minutes)!
Now that's the mark of a skilled mural artist if we do say so ourselves!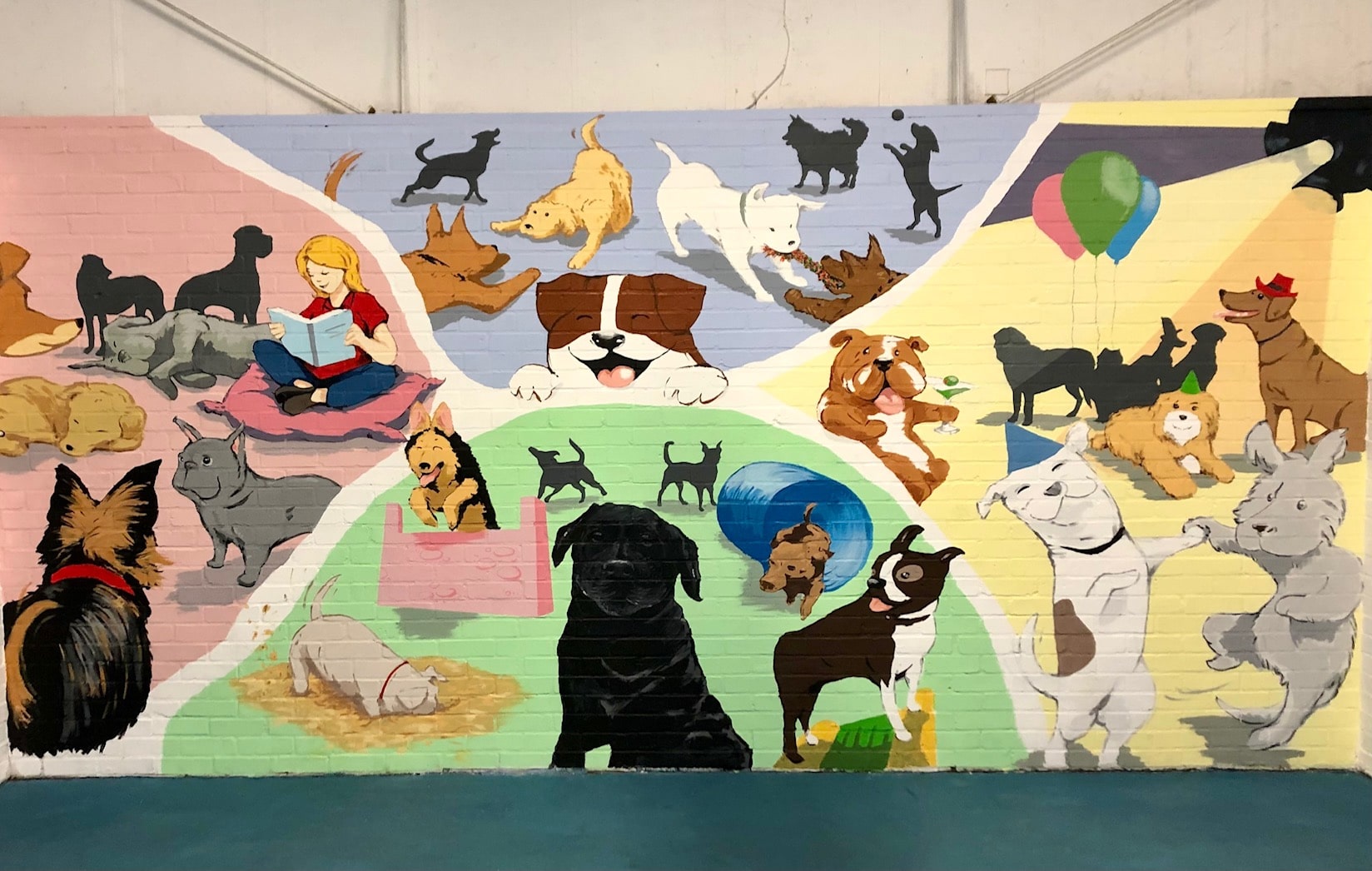 Dog mural (Colchester Canine Creche)
Of course, being a skilled mural artist also entails being able to design and create projects that have already been conceptualised by the clients. Which was exactly what this project required.
Commissioned by a husband and wife team, this commercial mural was completed for a dog creche located in Stanway. The clients wanted a fun mural that encapsulated the 4 aspects of life for dogs at their kennels:
Socialisation, storytime, playtime, and partytime!
It was really enjoyable bringing these concepts to life!
And we think we nailed the brief because after completing one wall, the clients requested an additional two!
Bespoke mural artist Colchester
When searching for a skilled mural artist, it's important to get to know each artist's style – and find whichever one best suits you. Take a look at our blog to find out why Studio 10 could have the best mural artist Colchester has to offer you! Hopefully, after reading this blog you have more of an understanding of how Studio 10 designs and completes bespoke murals. But if you're still unsure, please don't hesitate to get in touch with the team.